3D Model to Visit School
Students built a model of the results of the Let There Be Night experiment using over 35,000 LEGO blocks to represent the ideal night sky. From that 3D map, over 12,000 blocks had to be removed to represent the night sky lost to light pollution, according to over 3,400 student observations. The 3D model will be displayed at Grissom Middle School on January 11-19, 2010.
Students Address St. Joseph County Council

Two Grissom students were among the team who made a brief presentation to the St. Joseph County Council on March 24, 2009, at a committee meeting. SLT members described the three aspects of light pollution; suggested why the County should care and what's at risk; explained the LTBN community-wide experiment, both by thousands of students from their backyards and by SLTs at school grounds; and suggested what St. Joseph County can do to mitigate its light pollution. The Council generously received the group and afterward asked questions about local lighting issues.
SLT Members, Family, and Friends Look Up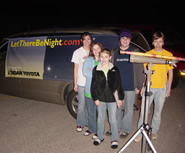 Before the Grissom SLT members took SQM readings, they gazed through a telescope to observe Saturn and a few of its moons, the Orion Nebula, the Beehive Cluster, and the Pleiades. The International Space Station (ISS) with the space shuttle Discovery docked to it glided across the sky as it passed high over the north. Thanks for staying late, team.

Grissom Teachers Have Key Role
On September 24, 2008, Grissom teachers prepare for LTBN at the first of two in-service sessions. The support of teachers is paramount to the success of this community-wide science experiment. Several Grissom Middle School science teachers also participated in two PBA Day in-services.