3D Model on Display at Horizon
Students built a model of the results of the Let There Be Night experiment using over 35,000 LEGO blocks to represent the ideal night sky. From that 3D map, over 12,000 blocks had to be removed to represent the night sky lost to light pollution, according to over 3,400 student observations. The 3D model is displayed at Horizon, left, October 19-23, 2009.
It Takes a Team
Every night a team of students is measuring sky glow with hand-held Sky Quality Meters (SQMs). Two images courtesy of Diane Pilarski.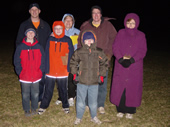 Parents and members of the Student Leadership Team trek out to the school grounds to quantify light pollution on March 23, 2009 (left). Many nights have been surprisingly clear, but the observations on cloudy nights are also valuable. Early reports of the student data suggest the sky glow is significantly brighter when it's overcast.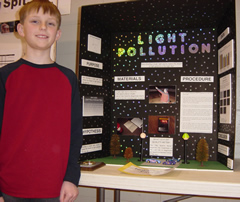 Dark Idea Advances in Science Fair
At the 2009 science fair, a Horizon 4th-grader suggested light pollution is lessened when outdoor lights are shielded. The project advanced to the regional science fair (NIRSEF), where it received a special award from the Michiana Astronomical Society. Congratulations.
Poem: Skylight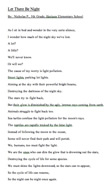 A Horizon 5th-grader shares her vision with a poem entitled "Skylight." (Click on the small image at left to enlarge.)
Another Horizon student wrote a poem entitled "Let There Be Night." (Click on the small image at right to view .pdf file of poem.)
Horizon Teachers Have Key Role
On October 1, 2008, Horizon teachers prepare for LTBN at the first of two in-service sessions. The support of teachers is paramount to the success of this community-wide science experiment.