3D Model Visits Elm Rd. Elementary School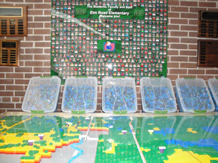 Students built a model of the results of the Let There Be Night experiment using over 35,000 LEGO blocks to represent the ideal night sky. From that 3D map, over 12,000 blocks had to be removed to represent the night sky lost to light pollution, according to over 3,400 student observations.
The 3D model is displayed at Elm Road Elementary School on January 4-8, 2010.
---

When Venus set in the west on March 21, 2009, Elm Road students and neighbors were able to get a glimpse of the inner planet in a thin crescent phase.Through a model of a Galileo-like telescope, one could appreciate the challenges of Galileo as he made his major discoveries.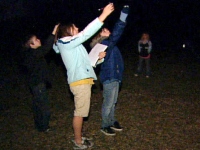 A larger 8-inch reflector scope also allowed students to see the Orion nebula, the rings of Saturn and some of its moons, and the Pleiades. Moments before the 9:30 reading with SQMs (left), the students and parents saw the International Space Station (ISS) with the Space Shuttle Discovery docked to it as the combo glided low across the northern sky.
The night's gathering was featured in a Let There Be Night update on WNDU news.
Meeting with Mayor Rea
Elm Road student Zachary M. and others meet with Mishawaka Mayor Jeff Rea to discuss Let There Be Night, outdoor lighting issues, and Earth Hour, occurring March 28th. See the related WNDU TV story.
Preparing for Planetarium Visit
Terri Mellor of Elm Rd. Elementary School compiled a Summary of Outdoor Lighting Issues as a PowerPoint presentation for students preparing to visit the PHM Planetarium. Nine simple slides address why we need lights, examples of light pollution, why we should care, examples of good lights, and solutions.
---
Sea Turtles Hatch at Elm Road
Students simulated sea turtles hatching in the presence of outdoor lighting as part of the Turtle Hatch activity in the gym. After the initial trial, only nine sea turtles survived. After one variable was changed (some lights were changed based on the recommendations of the students), about twenty sea turtles survived, as shown on the white board and on the paper plates.
Thank you, Elm Road teachers, staff and students.
Got a few LEGO blocks?

A young student shares the three posters she made that asks her classmates for LEGO blocks.
Teachers Gather for In-Service
Elm Road Elementary School teachers gather for a teacher in-service about Let There Be Night. Teacher resources are at www.LetThereBeNight.com/teachers.html.