3D Model on Display at Bittersweet
Students built a model of the results of the Let There Be Night experiment using over 35,000 LEGO blocks to represent the ideal night sky. From that 3D map, over 12,000 blocks had to be removed to represent the night sky lost to light pollution, according to over 3,400 student observations. The 3D model is displayed at Bittersweet Elementary School, right, November 9-13, 2009.
Bittersweet Students Announce LTBN On TV News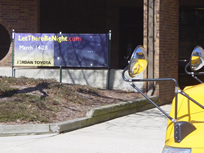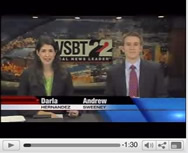 On March 14, 2009, WSBT meteorologist Andrew Sweeney and Bittersweet students announced the launch of LTBN.
Student Team Takes on Roles
Students representing Bittersweet have been meeting at the PHM Planetarium to prepare for the community-wide experiment. Here they are shown in front of a poster announcing Let There Be Night. They have several roles, including coordinating the LEGO drive, addressing Earth Hour, and measuring the sky glow from school grounds with hand-held Sky Quality Meters (SQMs).
---
Orion at the Entrance
Bittersweet Elementary School students designed their own images of Orion from the stars of the constellation. The student art shown here was on display in the front entrance.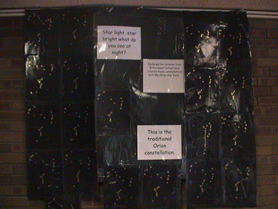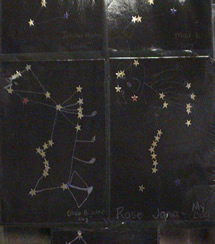 Punchout of Orion
Teacher Jenny McCarthy has been very supportive of Let There Be Night. She designed a punchout of Orion for an overhead projector (the less expernsive kind) and shared her idea with Mr. Klinger. She then enlisted the support of Bittersweet parents, who made copies of the punchout for each of 11 PHM elementary schools.
The drawings by the kids show there are different ways of seeing things--like Galileo with his improved telescope. But first we have to look up.
Here are links to some great drawings by kids depicting Orion, with more images at www.nightwise.org/kidart.htm:
Teachers Prepare
The support of teachers is paramount to the success of this community-wide science experiment. Bittersweet teachers prepared for Let There Be Night on September 29, 2008, at the first of two in-service meetings. Here, teacher Jenny McCarthy introduces the Orion punchout and other optional activities to her colleagues
Earth Hour Debuts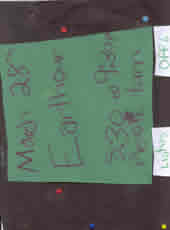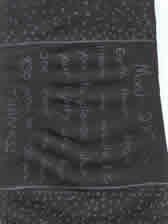 Student designs posters in support of Earth Hour. These and other signs made by students are being placed throughout the school.
Image on right is reminiscent of Rosetta Stone. See image of light pollution by Rosetta spacecraft looking back at Earth.